Gone are the days of juggling between tabs and windows, struggling to keep up with your diverse tasks.
There really is nothing worse than having your desktop or laptop screen crammed with multiple apps open all at the same time. Having to minus one before opening the next. Frankly, it's a pain in the ass and a waste of time!
But we've changed that!
With the Monduo Pro Duo Tri-Screen, you're empowered to embrace multitasking on a whole new level. Whether you're a creative professional, a data enthusiast, or a coding maestro, you'll revel in the boundless real estate that these three screens unveil. Spread out your design elements, compare data sets side by side, or code with unprecedented clarity - the choice is yours.
Picture this, you wake up to start your day, make a fresh cup of coffee, and turn to sit down at your desk… there it is.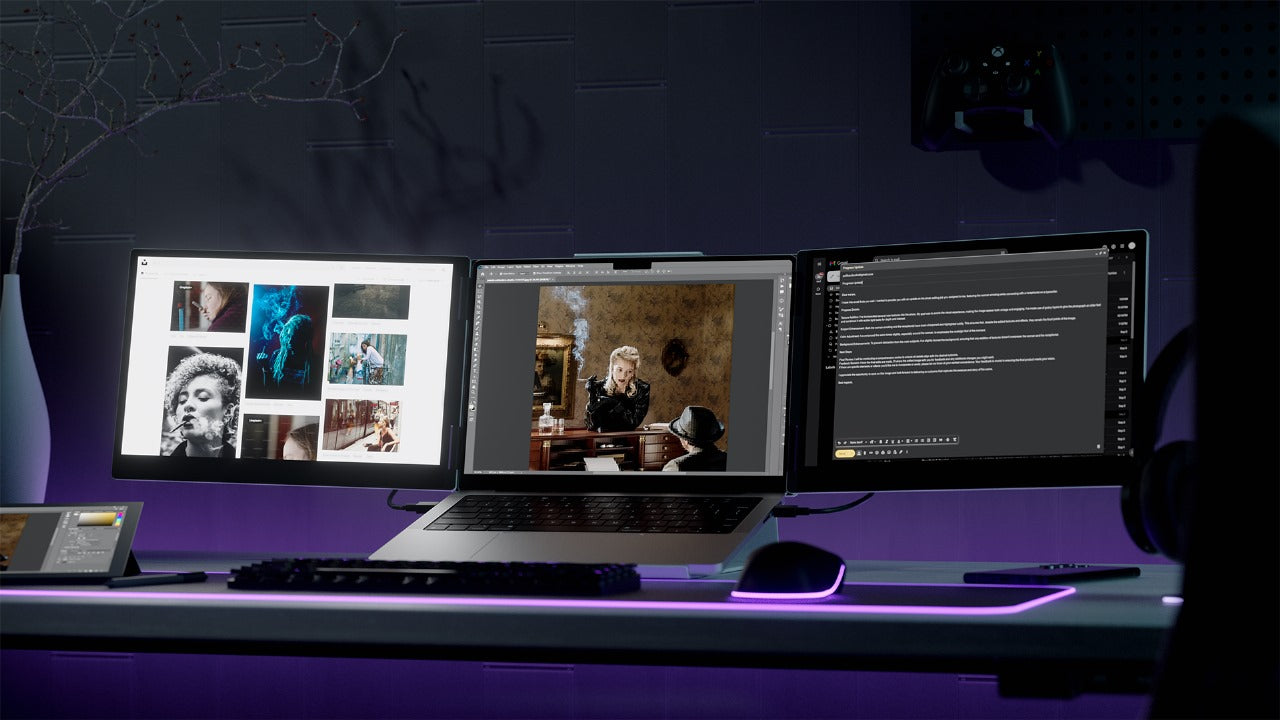 Your Monduo Pro Duo Tri-Screen
With up to 200% more screen space, it's virtually impossible not to enjoy the cinematic work experience. Because why settle for one screen, or perhaps two with wires getting in way and making your space messy, when you can get the best. It's a complete and unified working experience that only we can provide. 
Imagine the sheer efficiency of having your communication app, project timeline, and research materials all in one panoramic view. No more toggling, no more distractions. This is the gateway to immersive productivity, where you can dive into your tasks with laser-focused precision.
But it's not just about work – the Monduo Pro Duo Tri-Screen adds a touch of luxury to your workspace. Its sleek, modern design seamlessly fits into any aesthetic, and its advanced features are as impressive as they are practical. 
Effortlessly adjust screen angles, toggle between portrait and landscape orientations, and revel in the flexibility that this setup brings.
The Monduo Pro Duo Tri-Screen isn't just a device; it's a game-changer. Your workflow will be smoother, your ideas will flourish, and your creativity will know no bounds. Elevate your workspace, embrace the future, and experience productivity like never before. 
Welcome to the new dimension of work.